Accessorize: The Scoop on Their Spring and Summer Collections
What: TBF attended Accessorize's media event celebrating their Spring/Summer collections. From Accessorize's With its own in-house design team, Accessorize holds a unique position on the high street with its inspirational, […]
---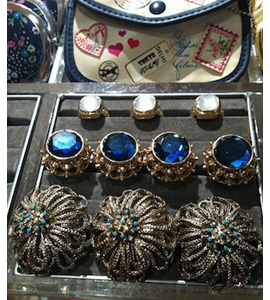 What: TBF attended Accessorize's media event celebrating their Spring/Summer collections.
From Accessorize's With its own in-house design team, Accessorize holds a unique position on the high street with its inspirational, globally sourced, well-priced and good quality collection of fashion accessories. Displayed in an original and impactful colour-bay design, the constantly changing range includes every kind of accessory imaginable; bags, purses, jewelery, belts, hats, scarves, flip flops, gloves, hair accessories and cosmetics.
Accessorize opened its first USA store in May 2010, and now operate in New York, Washington DC & Virginia.
What We Say: Think Claire's but add in a bit of sophistication and some more innovation. Now age the customer a bit and you've got Accessorize. This is a store we wouldn't necessarily go into upon passing, but once we were inside, we didn't want to leave. And because Accessorize is originally from the UK, it has a great British flair to that you don't tend to see here in similar accessory-heavy stores.

In terms of your wallet, Accessorize is a great option to grab some huge rings, fun and quirky items and not spend a ton. It's not at the level of affordability of Forever21 jewelry, but a step up in terms of price, along with an increase in quality. The price range for the entire store is from $8 to $80, so you can get some absolute steals and some higher priced items as well – though not that high.
We're not saying everything in this store is hot and some things looked a little cheap, but with such a massive inventory there are obviously going to be pieces that don't strike our fancy. This aside, we think you can definitely find some great accessories for your personal Spring/Summer 2011 collection. If you aren't near a store check out their website which carries everything.
Note: Suzanna received a necklace and hat courtesy of Accessorize
---